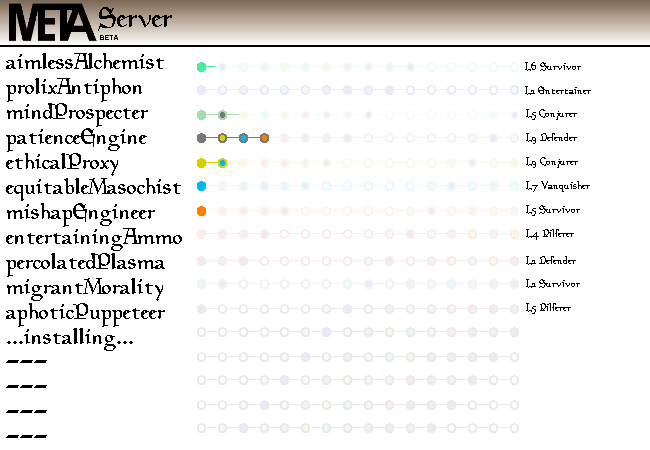 -- aegisMason
[AM]
began trolling prescriptionMiasma
[PM]
--
AM: oka yyo uwoul dno teve nbeliev ewha tshi tI'v egon ethroug hjus tno w
PM: Oh hOlE shit U do Axist.
AM: s o Ithin kI' mbein gprett ygenerou si naskin gwha tthi sgam ei sabou t,oka y
PM: It's A virus and it will hack your fIles.
PM: BEcause I do that kind of thing.
PM: Just ask AE.
AM: theatric s,an dho wyo ushoul dspar ethe m,oka y
PM: WhAre have U been?
PM: SEriouslE I've been trIing to get U to plAy since the start.
AM: oka yI'v ebee nrea lbus ybein gunconciou so nm yfron tlaw nthan kyo ufo raskin g
AM: fel lou to fm ywindo w,oka y
PM: REtard. Now I'm not sO sure the group nEEds U.
AM: oka ythe nby e
--
aegisMason [AM]
has ceased trolling
prescriptionMiasma [PM]
--
PM: NO wAit.
AM: wha t
PM: FIne hEre's the fIles.
PM: LIghten up.
--
prescriptionMiasma
is sending "AMsvirusbomboftrojans.exe" --
AM: oka ythi si sgoin gt otak e areall ylon gtim et osen d
PM: What.
AM: mos to fm ybandwidt hi sspen to nth ecamera s,oka y
AM: can' tjus ttur nthe mof f
PM: Yes U can.
AM: n o Ican' t
PM: If U dOn't I'll get AE to do it fOr U.
AM: oka y Igues s Ica n
AM: jus tle tm ed oon elas tswee p,oka y
PM: ...
AM: o hwo w
AM: yo utol dA Edidn' tyo u
PM: Hurry up.
AM: Ican' tmak ei tg oan yfaste r,oka y
AM: rela x
AM: als o Ihav et oru n aviru ssca nwhe n ige ti t
PM: I hAte U.
AM: oka yloo kI' mjus tplayin gi tsaf e
AM: th elas ttim eyo usen tm e agam ew ealmos tal ldie da tth ehand so ftha tblac kquee nthin g
AM: whic hi f Irecal lcorrectl ywa sonl ya nissu ebecaus eo fyo u
PM: U were the one that gAve her back the ring, shit fOr brAins.
AM: oka yan di fyo udidn' tstea li tsh ewouldn' thav ebee ns opisse da tu st obegi nwit h
PM: Y wOn't U admit it was your fault?!
AM: becaus ei twasn' t
AM: everyon escrewe du pa ton epoin t,eve nP E,oka y
AM: tha ti sm ypoin t
AM: i twasn' tjus tm eo rjus tyo u
AM: sto pmakin gi tno tabou tyoursel f
AM: responsibilit y,an dho wyo ulac ki t
PM: Fuck U. I'm rEsponsible.
PM: I'm rEsponsible fOr this whOle gAme
AM: oka yno wyo uar ejus ttakin gth eothe rextrem e
AM: thi sisn' tjus tabou tyo u
AM: wh yd oyo unee du st opla yanywa y
AM: i fyou'r es oimportan tsolv ei tyoursel flik eyo ualway sd o
PM: If it wasn't fOr mE U'd all bE dead.
PM: There. I said it.
PM: Tell everEone when U get in gAme.
PM: MEan Old PM did something nIce fOr them out of the goodness of her black, sOulless, bitch heart!
PM: Is it rEallE too much to ask to bE apprEcEAted fOr fucking once?!
PM: IS IT AM!?
AM: oka yth etim efo rchillin gth efuc kou ti sno w
PM: WHY IS YOUR NETWORK SO SLOW
PM: SO DAMN SLOW
PM: WHO DOES THAT
AM: oka yuuum m
AM: P Mchil l
PM: I HATE YOU
PM: I HATE ALL OF YOU
PM: YOU ALL TREAT ME LIKE SHIT BECAUSE I SCREWED UP ONCE
PM: YOU KNOW HOW MUCH IT SUCKS?!?
AM: n ono treall y
PM: OF COURSE YOU DON'T
PM: FUCKING JACKASS
PM: SOME FRIENDS YOU ARE
AM: oka yit' sno tlik ew ehaven' ttrie dbein gnic e
PM: DAMN YOUR STUPID SPACE THING
PM: SO HARD TO READ
PM: HARD LIKE YOUR HEAD
PM: AND YOUR HEARTS
AM: yo ualway sd othi s
AM: alway stakin gth eoliv ebranc han dusin gi ta sfirewoo d
PM: THE FUCK IS AN OLIVE?!
--
aegisMason
has received "AMsvirusbomboftrojans.exe" --
AM: oka ythi si skin do fcreepin gm eou t
AM: eve nfo ryo us ou h
AM: s oI' mgoin gt ojus tinstal l,oka y
PM: GOOD
PM: GET OUT OF MY LIFE
-- prescriptionMiasma
[PM]
has blocked aegisMason
[AM]
--
Sometimes you just want to kill yourself. Whoever you are.
Let's go back to the less depressing couple.