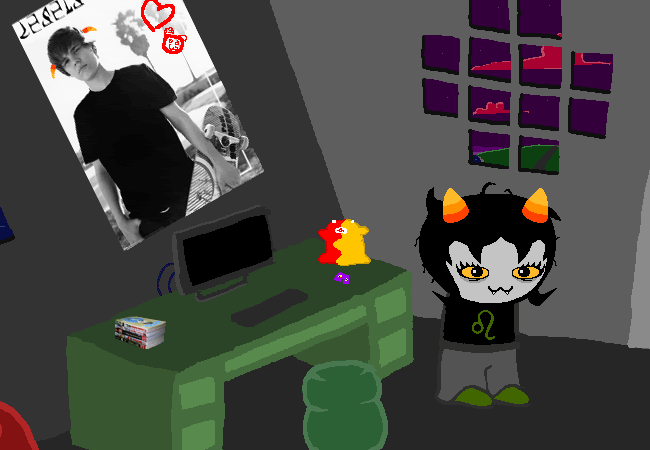 You are Nepeta Leijon.
It is twilight on your fifth wriggling day, a time trolls are intended to set aside to reflect on their FAILURES. You were NEVER GOOD at reflecting, or thinking in general, but you imagine your life could be a LOT MORE EXCITING! You live in a yawnring--you mean LAWNRING--precariously perched over the ocean. Your seaside community is close knit, and all of your friends live nearby. The sound of the ocean coming in against the cliffs is so soothing your recuperacoon seems redundant!
Occasionally from your window you see a group of FLARPers sailing for adventure on the HIGH SEAS. Someday you plan to join them! For now you continue to feel an unnerving sense of restlessness.
What will you do?
A word of warning from the author:
Hi, I'm aceofspudz. I'm writing nepetaquest.
I don't normally write fanfiction, so I really didn't know what I was getting myself into when I made the decisions that would form the basis of this thing. Specifically I had no idea the inclusion of OCs would meet with so much resistance. I figured I had to include OCs for dramatic purposes, since the prequel setting made the canon trolls too young and we already knew their fate of entering sgrub as well as the most interesting things that happened to them. Nepeta couldn't influence their lives significantly unless I made an AU, and I didn't want to.
I wanted to keep my story in the margins of Homestuck, and if saddled with an entire cast of people whose backstory I didn't know or control that would be impossible.
I don't want to waste your time either, though. So before you read on and assume that Nepetaquest is a traditional homestuck fanfic, I should warn you that it is primarily about Nepeta and a cast of OCs. Canon trolls make some cameos. There will be sizable portions where we don't assume Nepeta's perspective at all. So if this kind of pisses you off or you just hate fantrolls (like I said--sorry, I didn't know fanfic culture) maybe don't read it! Just get a cool drink and read
Be The Seadweller Lowblood
. Nice canon cast in that one.
But if you are still here I promise you I really do put heart and soul into this. Of course I love Nepeta, my patron troll. I've also come to love the story I and the participants on the MSPAFA forums have spun around the original cast. I think it's pretty good, and hopefully you will too. (And uh, eventually the art gets better.)