==>Be the irritated white thing.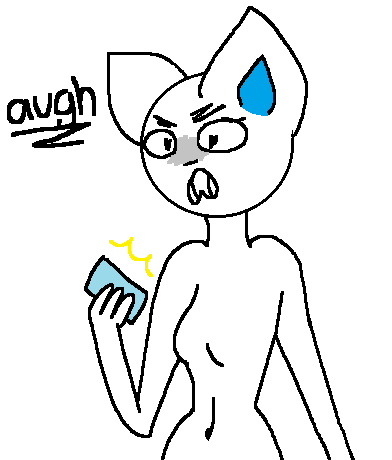 Now, let's intruduce you then. Your name is SNOWFLAKE GRIMREAPER, a part of the GRIMREAPER CLAN.You're BIPOLAR and you've got ANGER ISSUES.Unlike your appearence, you're actually a FEMALE (could tell by your breast-looking things).You're currently 17 and you're dealing with your BROTHER's bullshit. Let's see you two's conversation from your MOBILE PHONE.
(You) begin messaging 'Hideous person' at 10:59.
[11:00](You):Hey asshat, why don't you do this shit already.
[11:00]Hideous person: i aint doin no shit bitch
[11:00]Hideous person: i dont even know why you want so much to go in human world
[11:01](You):I've got something to do there.Remember we've got to find our father.
[11:01]Hideous person: why dont you do it yourself
[11:01]Hideous person: plus humans are disgustin i aint goin there
[11:02]Hideous person: also theyre completely useless
---
[11:20](You):Dipshit,you still there.
[11:23] Hideous person: yeah im here just busy bc i have a life and im not chasin after our dad whose in another world
[11:24]Hideous person: sides dont you have hw or somethin to do
[11:24](You):You're asking me for homework.Why don't you look at your typing,retard.
[11:25]Hideous person: yknow your attempts to go in there are useless
[11:26]Hideous person: actually why would you even bother me
[11:26]Hideous person: why dont you ask the others for fucks sake
[11:27](You): BECAUSE I FUCKING NEED YOU FOR SHIT TO WORK.
[11:27]Hideous person: oh
[11:28](You): NO SHIT SHERLOCK.
[11:29](You): I WAS FLIPPING MY SHIT OVER NOTHING,YEAH.